Dietetic_Internship
Department of State Hospitals - Patton: Dietetic Internship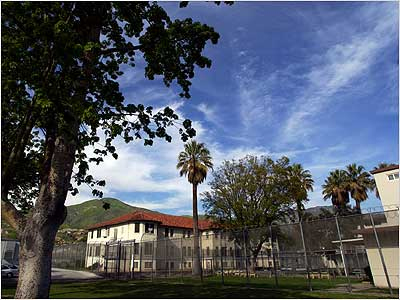 Congratulations to our Dietetic Intern Class of 2015-2016 on successfully passing the Registration Examination:
Jimmy Alvarado, University of the Incarnate Word - San Antonio, TX
Payton Anders, Cal Poly San Luis Obispo
Ryan Nicholson, San Diego State University
Lisa Paradiso, Cal State University Long Beach
Taylor Wolfcale, Cal Poly San Luis Obispo
Welcome to our Dietetic Internship website! Thank you for visiting our page. Over the past two decades, our dietetic internship has been successful in training over 115 aspiring dietitians to pass the registration exam. We have seen our former interns become successful after the internship working in about every area a RD could work (i.e. Acute clinical nutrition, Consulting, School Food Service, Public Health, WIC, Geriatrics and even animal nutrition science – zoo nutrition!).
GENERAL INFORMATION
Department of State Hospitals (DSH) – Patton is located at the base of the San Bernardino Mountains, 50 miles east of Los Angeles and 50 miles west of Palm Springs. The hospital is the largest maximum-security forensic hospital in the country that houses both male and female civilly committed psychiatric patients. Currently Patton houses over 1500 patients with a wide range of mental disorders. DSH – Patton Dietetic Internship Program is a generalized program with a concentration in psychiatric disabilities, substance abuse recovery and medical nutrition therapy. The program is full-time for 10 months, starting each August. There are six (6) intern positions available through the spring D&D computer matching
We are currently granted accreditation by the Accreditation Council for Education in Nutrition and Dietetics (ACEND), the accrediting body for the Academy of Nutrition and Dietetics.
Contact information:
Accreditation Council for Education in Nutrition and Dietetics
Academy of Nutrition and Dietetics
120 South Riverside Plaza, Suite 2000
Chicago, IL 60606-6995
(800) 877-1600 ext. 5400
www.eatright.org/ACEND
PROGRAM MISSION
The mission of the DSH – Patton State Hospital Dietetic Internship Program is to prepare interns to be competent entry-level dietitians who are well-rounded, culturally sensitive for service to the community and society as a whole, and contributing members to the field of dietetics. The program is committed to educating interns in developing skills to promote health and prevent disease utilizing scientific evidence based practice. The program will provide various supervised practice rotations to advocate optimum nutrition to every person served.
PROGRAM GOALS AND OUTCOME MEASURE
We are guided by ACEND standards. The program is designed to provide didactic and supervised practice to meet the eligibility requirements to become a Registered Dietitian (R.D.). The program will promote individual learning that bridges academic knowledge with practical experiences to develop and promote teamwork and other operational skills for employment in the field of dietetics, establish life-long learning to maintain a credentialed status, encourage involvement in the professional organization, and offer an effective learning environment. The program goals are:
A. The program will prepare competent, entry-level Registered Dietitians for employment.
Outcome Measures:

Over a five year period, seventy-five percent (75%) of interns who start the program will complete the program within 15 months.
Over a five year period, eighty percent (80%) of graduates will pass the registration examination on the first attempt.
Over a five year period, at least seventy-five percent (75%) of graduates that seek employment will be employed in a dietetic related job or pursuing higher education within 6 months of graduation.
B. The program will graduate interns that are well-prepared and show leadership in the field of dietetics.
Outcome Measures:

Eighty percent (80%) of employers will rate graduates as "meets expectations" or above in knowledge, skill and leadership qualities following the first year of employment.
Ninety percent (90%) of program evaluations completed by interns will state that the program provided a well-rounded experience.
After one year of employment, eighty-five percent (85%) of employed graduates will rate themselves as well-prepared for performance as compared to graduates from other dietetic internship programs.
C. The dietetic internship will provide a program in which skilled preceptors and internship director facilitate a comprehensive and supportive learning environment for interns.
Outcome Measures:

Eighty percent (80%) of interns will rate preceptor skills as satisfactory (3.0 on a 5 point scale)
Eighty percent (80%) of interns will rate their overall internship learning experience as satisfactory
Eighty percent (80%) of graduates will rate their overall internship learning experience as Satisfactory.
Outcome Data are available upon request.
STUDENT LEARNING OUTCOMES
Interns will demonstrate effective communication skills
Interns will demonstrate their ability to effectively and efficiently use tools and techniques for managing foodservice systems.
Interns will provide comprehensive evidence-based nutrition care and follow-up evaluations utilizing a system of "best practices."
Interns will gain knowledge and skills in leadership to successfully manage financial, human, and physical resources.
Interns will use a broad knowledge of food and food related issues (including social, public policy, health and disease) to promote optimal intake and healthy lifestyles for in the community.
Interns will model professional behavior including ethical practice, participation in professional activities, and a commitment to lifelong learning.
SUPERVISED PRACTICE
Patton's dietetic internship program provides supervised practice in clinical dietetics, community nutrition and food service administration, both in hospitals and schools. As the host facility, we provide a unique learning experience in the treatment of individuals with severe mental illness that are committed to the hospital by the court. Interns have the opportunity to expand their skill set by practicing in the various affiliations that supplement our program. Clinical affiliations include, Arrowhead Regional Medical Center, San Gorgonio Memorial Hospital, Children's Hospital Los Angeles, and California Prison Health Care Systems. The program also has affiliations with the San Bernardino City Unified School District and the San Bernardino Public Health Department.
Administrative Dietetics: Administrative experiences provide an understanding of the roles and responsibilities of all levels of foodservice systems management in hospital and school foodservice and to provide hands-on experience in quantity food production utilizing cook-serve and cook-chill. Learning is facilitated using written assignments and oral presentations based on the ongoing needs of the department. The food service experience includes menu planning, production and service methods, procurement, inventory, cost control techniques, management and human resources. The intern will practice planning, coordination, time management and critical thinking. An opportunity to work independently and use skills is gained during staff relief.
Clinical Dietetics: Clinical Rotations are designed to provide practical experiences using the Nutrition Care Process (NCP), including assessment, diagnosis, intervention, monitoring and evaluation of nutrition care. The intern actively participates in patient/client education as well as interdisciplinary team meetings. Experience in clinical dietetics involves working with clients in long-term, sub-acute and acute health care settings, such as: acute-care hospital, long-term mental health, pediatrics and prison health care. The clinical rotations provide experience in diabetes care and education, dialysis and renal disease, nutrition support, cardiology, GI disorders, oncology, burns and wound healing, HIV/AIDS, dysphagia, geriatrics, pediatrics and feeding disorders, NICU, substance abuse and recovery, surgical and critical care. Learning is facilitated by written assignments, oral case studies and presentations. Staff relief at the end of the rotation reinforces practical nutrition care in the clinical setting.
Community Dietetics: Experiences in this rotation are planned to provide understanding of the role of the dietitian in the community setting. Interns receive experience in the following: outpatient nutrition clinics including primary care and Public Health WIC clinics in assessing and counseling perinatal clients as well as infants and children from low-income families, services to Senior Nutrition Programs, both congregate meals and Meals on Wheels); work with the Department on Aging to provide senior nutrition and physical activity classes; child services which includes the Child Health and Disability Prevention Program (CHDP); as a resource for food assistance programs available through food pantries, monitoring food safety concerns at community or faith-based food banks; participate in fitness and wellness activities with elementary school children or community based organizations to promote eating more fruit and vegetables and increasing physical activity. Besides the hands-on experiences, learning is facilitated by reading and written assignments.
Supervised practice is divided as follows:
Orientation (to hospital and rotation sites) - 2 weeks
Acute and Clinical Nutrition - 25 weeks
Hospital Foodservice - 6 weeks
School Foodservice - 2 weeks
Community Nutrition - 6 weeks
Staff Relief - 5 weeks
A one-week vacation is planned for the week of Christmas in addition to all state observed holidays:
New Year's day
Martin Luther King Jr. Day
President's Day
Cesar Chavez Day
Memorial Day
Independence Day
Labor Day
Veteran's Day
Thanksgiving Day
Day after Thanksgiving
Christmas Day
DIDACTIC SCHEDULE
Didactic classes, usually held each Monday, are planned to supplement the supervised practice and coordinated with the Greater Los Angeles Dietetic Intern Consortium (GLADIC) which include area dietetic internship programs: Cal Poly Pomona, Cal State Univ. Long Beach, Cal State Univ. Northridge, Public Health Foundation WIC, Children's hospital Los Angeles, and Los Angeles Veterans Health Care System. The didactic classes offer an opportunity for interns to network with other interns and dietitians from local institutions. Didactic classes are held at any of the facilities covered by the GLADIC and interns are responsible for transportation to these classes. A car is required for the internship.
FINANCIAL AND HOUSING INFORMATION
Pre-program Fees:

Program Application Fee

$ 65

DICAS fee

$ 45

D & D Digital Systems Computer Matching Fee

$ 50

Air Travel and accommodations for in-person interview

$ 700 (varies)

Total

~ 860.00

Upon admission to dietetic internship program:

Stipend:

Funding for stipends is determined annually and therefore subject to change. The current financial compensation as Graduate Student Assistant during the rotation at DSH – Patton is approximately $8000.00 per year.

The following program fees are required and are estimated amounts:

Tuition

NONE

Housing per month

$700 - 1000

Utilities per month

$100

Meals/Food per month

$ 350

Transportation (car is required) per month

$ 300

Car Insurance

$ 800

Health Insurance per month

$ 150

Materials and supplies as needed (calculator, books, computer, internet)

$ 1000

ADA Student membership fee

$ 64

Inland District Dietetic Association membership fee

$ 11

Professional Liability Insurance

$ 50

Personal expenses (lab coat, clothing, shoes, conferences etc.)

$ 2000

Registration Exam

$ 200

TOTAL ANNUAL COST

$ 25,125.00
THE INTERN MUST HAVE A CAR, CAR INSURANCE, MEDICAL INSURANCE, AND PROFESSIONAL LIABILITY INSURANCE THROUGHOUT THE INTERNSHIP.
STUDENT LOANS
As a general rule, dietetic interns are not eligible for student loans. However, deferments for outstanding loans can be made if allowed by your lender. Patton can provide documentation of status as an intern, or complete documents from the loan agency to verify status in an accredited certificate program.
HUMAN RESOURCE REQUIREMENTS
Upon acceptance to the DSH – Patton Dietetic Internship, the accepted applicant must undergo a California State Criminal Background Check and a pre-employment health clearance that includes a TB skin test before starting the internship. Appointments for these tests must be made prior to the intern starting the internship. The intern will complete this process through DSH – Patton Human Resources and employee clinic at no charge. PSH will not be responsible for changes incurred if these services are not done at Patton.

All state employees are subject to the provisions of Government Code Section 19253.5 and State Personnel Board Rule 172.3, and may be required to submit to a medical evaluation to determine their capacity to perform the duties of their job. Employees (dietetic interns) who are not designated as being in a sensitive position are subject to a "fitness for duty" evaluation and may be tested for drugs and/or alcohol when there is reasonable suspicion that they are under the influence while on duty
.
COMPLETION REQUIREMENTS
▶ Satisfactory completion of required supervised practice hours. Hours are completed on a
full-time basis. Employment outside of the internship program is highly discouraged due to
time commitments of interns.
▶ Attend all assigned orientation classes, didactic classes, workshops, seminars,
meetings, and field trips.
▶ Satisfactory completion of all assigned assignments and projects.
▶ Compliance with the Code of Ethics, Standards of Practice for the Profession of Dietetics,
Patton Administrative Directives, Policies & Procedures of Nutrition Services Patton and
the policies & procedures of our affiliate sites.
Upon successful completion of the program, the intern will receive a verification statement and candidacy to sit for the Registration Examination, the final step toward becoming an R.D. and an active member of the Academy of Nutrition and Dietetics.
APPLICATION PROCESS
Patton State Hospital Dietetic Internship participates in the spring computer matching process. Mailed applications will not be accepted. Follow the instructions for the DICAS (Dietetic Internship Centralized Application System) described below.
DSH – Patton Dietetic Internship program is using the on-line centralized internship application, DICAS, which may be accessed at:
https://portal.dicas.org or by e-mail at DICASinfo@DICAS.org. The online application must be completed for our program by 11:59 p.m. Central time on February 15, 2017. The fee to use DICAS is $45 for the first application and $ for each additional application.
Official transcripts from all colleges and universities attended must be postmarked by February 15, 2017 deadline to:


DICAS – transcript Dept.
P.O. Box 9118 Watertown, MA 02472

Foreign students must have a valid visa for the entire internship year. The course curriculum must meet the requirements of ACEND and transcripts can be verified through:

Academic Credentials Evaluation Institute, Inc.
P.O. Box 6908
Beverly Hills, CA 90212
United States of America
Phone (310) 275-3530
Fax (310) 275-3528
E-mail: acei@acei1.com
www.acei1.com

When completing the application, applicants must include names and contact information (specifically an email address) for each reference. This will trigger an email message requesting completion of a reference form. The form will be completed on-line. Students submitting more than one application will need to use the same individuals as references for each application.
Applicants who apply to internships using DICAS will be asked to complete a 1000 word limited personal statement to include:

Why do you want to enter the dietetics profession?
Discuss experiences that have helped prepare you for your career.
What are your short-term and long-term goals?
What are your strengths and areas that may need improvement?
DSH- Patton is asking applicants to address the following in addition to the above questions from DICAS:
Discuss what skills, interest, and hobbies you have.
Challenges you have faced on your path to becoming a Registered Dietitian.
Applicants must also register on-line for computer matching at www.dnddigital.com and select dietetic internship priority choices by 11:59 p.m. Central Time on February 15, 2017. There is a $50 computer matching fee due at the time.

Address questions or inquiries to:

In addition to DICAS application materials:
Applicants must mail a non-refundable $65 application fee made payable to "Patton State Hospital." Only cashier's check or money order will be accepted. We cannot accept personal checks. Please mail to the following:



Dietetic Internship Program Director
c/o Nutrition Services
DSH - Patton State Hospital
3102 East Highland Ave.
Patton, CA 92369

All applicants must submit a DPD advisement form. This is a form that your university uses to determine which courses meet DPD requirements. This form must be submitted through DICAS. Once you have chosen Patton to apply to, there will be an option to upload supplemental information.

"Recent education" is only required if dietetic coursework was completed four (4) or more years prior to the application deadline.If you completed your coursework four or more years prior to the application deadline, you must include the completed recent education form and submit it through DICAS (for more information, see "Admission Requirements" below.
DSH – Patton Dietetic Internship Program does not assess prior learning and does not apply prior learning credit toward meeting dietetic internship requirements.
ADMISSION REQUIREMENTS
Completion of a baccalaureate degree from a didactic program approved by the Accreditation Council for Education in Nutrition and Dietetics (ACEND)
For additional information:
Accreditation Council for Education in Nutrition and Dietetics
Academy of Nutrition and Dietetics
120 South Riverside Plaza, Suite 2000
Chicago, IL 60606-6995
(800) 877-1600 ext. 5400
www.eatright.org/ACEND

Verification Statement from the Director of a Didactic Program in Dietetics
Official transcripts of all college course work and/or graduate studies (minimum GPA 3.0 for cumulative and core courses required). Foreign students must have a visa valid for the internship year and a curriculum catalog sent with the transcripts
Recency of education (date of graduation to application deadline)

0-3 years - update not required
4 years - uupdates of 9 semester our 12 quarter hours required. Upper division courses in physiology, clinical nutrition and food service systems management are recommended or otherwise as identified by the Program Director


Three (3) letters of recommendation:

Professor
Work Supervisor
Personal friend (not family member or relative)

Personal statement (limited to 1000 words) on personal philosophy, career goals, strengths/areas of improvement, skills or interests, hobbies and extracurricular activities.
Application fee of $65 in form of cashier's check or money order payable to Patton State Hospital.
Questions on admission requirements may be directed to:
Elena Chai, DrPH(c), MPH, RD
Dietetic Internship Director
Department of State Hospitals - Patton
3102 East Highland Ave. Patton, CA 92369
Phone: (909) 425-7575
Fax: (909) 425-7069
Email: elena.chai@dsh.ca.gov
Psychology Training Overview
Psychology Internship
Psychology Postdoctoral Fellowship
Psychology Practicum

Psychiatry Internships and Affiliations

Other Programs