Meet the Chief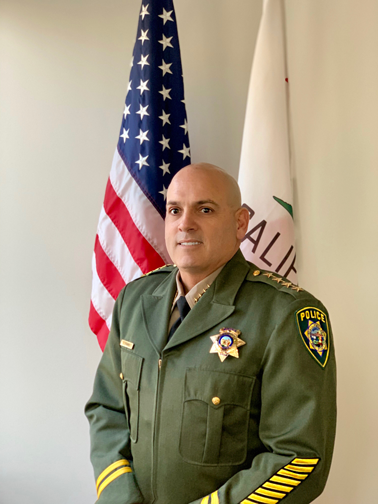 DAVID L. STARNES - CHIEF OF DSH LAW ENFORCEMENT
5 PILLARS OF A SUCCESSFUL ORGANIZATION

Recruit, Hire, and Retain Good People
Consistent Statewide Selection Process
Consistent Statewide Policy
Consistent Disciplinary and Accountability Processes
Consistent Statewide Succession Management Planning
Personal
Chief Starnes was born and raised in Sacramento, California. He lives in Sacramento with his wife Tracy of 28 years. He has two adult children, a daughter and son, both who are currently attending college. Chief Starnes is a United States Marine Corps Veteran. His most recent experience involves running his Public Safety Consulting Practice, serving as an expert witness and subject matter expert over the past three years, as well as working as a retired annuitant for the Office of Law Enforcement Support.
Chief Starnes brings 26 years of experience with the California Department of Corrections and Rehabilitation (CDCR) encompassing administration, management, supervision, and line-staff duties and responsibilities. He began his law enforcement career in 1990, as a correctional officer. He has been assigned to work in three different California prisons as a correctional officer, sergeant and lieutenant. In 2006, he promoted to special agent with the CDCR Office of Internal Affairs where he conducted criminal and administrative investigations of CDCR staff. In 2009, he promoted to senior special agent where he supervised multiple special agents, conducted sensitive and complex internal affairs investigations. By the end of his CDCR career, he was the Chief of the Peace Officer Selection Process for the entire department.
Chief Starnes enjoys coaching the men's rugby club for California State University Sacramento and playing rugby for the California Bald Eagles over 50 men's rugby club. He also enjoys spending time traveling with his family.
Personal Statement
"Our Department has many outstanding men and women in uniform, serving the citizens of California, ensuring the safety of the patients, staff, and visitors to our facilities. My goal is to continually improve the quality of the law enforcement services we provide, and that the officers have the tools, resources, and training they need to carry our mission. However, far more important than training or equipment, a resolute belief in the mission is critical for any team or organization to succeed and achieve its goals. I believe in our mission and I am dedicated to providing the highest level of safety and security through quality law enforcement services. I believe this will enable our practitioners to deliver the highest level of compassionate treatment to our patient population."