Meet the Chief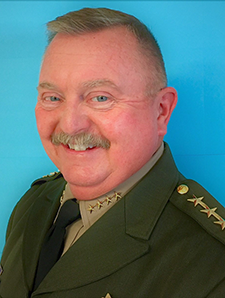 ERIC E. SMITH - DSH ACADEMY POLICE CHIEF
Personal
Chief Smith began his DSH career as a Hospital Police Officer at Atascadero State Hospital in November 1989, promoting to Sergeant in 1996 and Lieutenant in 2012. During his tenure he was an academy instructor, worked as the Watch Commander in the Operations Division and supervised the Detective, Photo Lab, K.9., and Transportation Units in the Support Division. As a Lieutenant, Chief Smith oversaw these divisions, serving as the Division Commander and worked as the Acting Chief of Police. In June of 2017, Chief Smith was assigned to the Office of Protective Services Police Academy as the Academy Commander, overseeing the academy's move to its current location at Camp San Luis Obispo, California.
Chief Smith also served his country as a Chief Warrant Officer with the United States Coast Guard Reserves. He served for 32 years before retiring in 2012. While in the Coast Guard, Chief Smith served during Operation Desert Shield/Storm, 9/11, Deepwater Horizon, and was the Operations Officer for the Sea Marshal Program at the Port of Long Beach after being recalled to active duty on September 11, 2001.
Chief Smith attended P.O.S.T. Command College, holds a Bachelor's degree in Public Safety Administration and a Master's degree in Leadership from Grand Canyon University, graduating Summa Cum Laude. Chief Smith lives in Paso Robles, California and enjoys gardening, model rocketry, astronomy, astrophotography, and has a few photo credits to his name. He also enjoys growing grapes and making award winning Petite Syrah wine with his wife Donna.
Message from the DSH Police Chief - OPS Academy
It is a great honor to be selected as the Chief of the OPS Police Academy. As the Academy Commander, my number one goal will be to ensure that our new officers receive the very best training possible in an environment that is conducive to learning. The continuing mission of the OPS Academy is to provide our officers with the fundamental foundations of law enforcement and leadership, while fostering a spirit of community service. This will be accomplished in a framework of values and ethics that is meant to strengthen the mind and body of all those who have chosen law enforcement as a career. As we strive to prepare our new officers to meet the unique challenges within our forensic environments, we understand that these cadets are our future, and above all else, we maintain the premise that the future is always possible!