Meet the ASH Fire Chief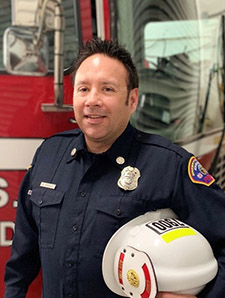 BRYAN AREBALO - DSH FIRE CHIEF ATASCADERO
Personal
Bryan Arebalo promoted to Fire Chief at the Department of State Hospitals (DSH) Atascadero on February 22, 2019. Chief Arebalo was hired at DSH Atascadero as a firefighter in October 2013 and quickly assigned to Lead Firefighter. Chief Arebalo has spent the last two years creating a training program to enhance the Fire Departments capabilities and assisted in the procurement process to purchase two new fire engines, fire suppression/rescue equipment and other equipment that modernized the Fire Departments emergency response readiness.
Prior to starting at DSH Atascadero, Chief Arebalo started his career in 1994 as a Volunteer Firefighter with Santa Margarita Volunteer Fire Department and in 1996 with San Miguel Volunteer Fire Department as an Acting Captain and Training Officer. He has worked with various agencies including: California Department of Forestry and Fire Protection (Cal Fire), City of Atascadero, Camp Roberts and Hearst Castle Fire Department as a Firefighter/Peace Officer. Some of his duties included; working on County Structure Engines and State Wildland Type III Engines, Air Operations Program, teaching PCF and CDF Wildland Firefighter Academies, and Driver Operator.
Chief Arebalo has been an Emergency Medical Technician (EMT) with the State of California for 22 years and holds numerous California State Fire Training Certifications, such as, Firefighter 1, Firefighter 2, Driver/Pump Operator 1 and Fire Company Officer. He has completed extensive training in the Incident Command System, Fire Management, Wildland Firefighting Operations, Fire Command, Rescue Operations and Fire Investigations.
Chief Arebalo has lived in San Luis Obispo County his whole life graduating from Atascadero High School. He went onto Cuesta and Allan Hancock College, graduating from the Allan Hancock Fire Academy in 1998. When he is not working, Chief Arebalo enjoys spending time with family and friends. He also enjoys camping and being outdoors.
Message from the DSH Fire Chief - Atascadero State Hospital
The Fire Fighters at the DSH-Atascadero Fire Department have a long history of caring today for a safe and healthy tomorrow. Today the DSH Fire Fighters provide safety to our patients, staff, and the community at several DSH Facilities state wide. Through innovative fire department training, continuous fire prevention, fire equipment modernization, and consistent policy and procurement of enhanced Personal Protective Equipment, the DSH-Atascadero Fire Department will continue to meet and exceed the challenges of emergency response. With team work, dedication and professionalism, DSH-Atascadero Fire Fighters will move the Fire Department forward. As we learn from the past, we need to embrace the future evolution of emergency services. We need to stay focused with the job at hand and our customer service cannot waiver. We must exceed all expectations as a team of dedicated and courteous professionals who are committed to their duties. This will assist DSH-Atascadero with maintaining the highest level of patient care and protect the lives of everyone who resides, works, or visits Atascadero State Hospital.