Meet the Chief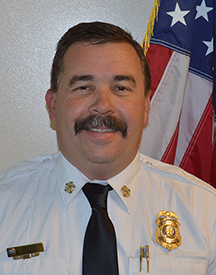 STEPHEN GRISWOLD - DSH FIRE CHIEF COALINGA
Personal
Stephen Griswold promoted to Fire Chief at the Department of State Hospitals (DSH) Coalinga on June 9, 2014 with over 20 year of Fire Service experience. Chief Griswold was hired at DSH Coalinga as a firefighter in July 2005 during the activation. In 2011, he fulfilled the duties as the Site Representative for the State Employee Fire Fighters Association (SEFFA). He worked as the Lead Firefighter in the absence of the Fire Chief, and maintained the 1.2 million square foot facility to ensure that DSH-Coalinga is safe for all staff, patients, and visitors.
Prior to starting at DSH Coalinga, Chief Griswold started his career just after getting out of High School in 1993 with Fresno County Fire Protective District as a Paid Call Firefighter. He spent about a year with the Stephentown Volunteer Fire Department in NY where he is a third generation Firefighter. In 1992 He graduated from Coalinga High School in Coalinga, Ca and attended West Hills College. When not at DSH-Coalinga, he has his own Business, and he is a professional Drummer for over 25 years and volunteers teaching drums at the Imaginarium Institute of Fine Arts a non-profit organization. Chief Griswold and CSH Fire Fighters annually fundraise in support of Muscular Dystrophy (MDA), "Fill the Boot" has been around for more than 60 years. In 2015, more than 100,000 fire fighters participated in "Fill the Boot" events across the country and raised $25.5 million. Besides his dedication to DSH Coalinga, Chief Griswold enjoys camping, hiking, biking, and many other outdoor activities with his family.
Message from the DSH Fire Chief - Coalinga State Hospital
As the Fire Chief at DSH-Coalinga, my goal and my responsibility is to provide high quality fire services to the staff, patients and visitors as well as protect the people and property of the State of California. DSH-Coalinga Fire Department's mission is in line with the hospitals mission, Caring today for a safe and Healthy Tomorrow. I believe the Fire Departments contribution to this mission is in line with Hospitals Administration's vision, providing excellent customer service to staff and patients through positive communication and teamwork. The fulfillment of this mission will be met by improvements to fire service training and education, the use of new technologies making tasks more efficient, and upgrading outdated command structures that no longer provide the necessary accountability for safe and effective operations within the Fire Department. Through these improvements I believe the dedicated Firefighters who provide services at DSH-Coalinga will be able to do so in a manner that increases the quality of patient care and protects the lives of everyone who resides, works, or visits the Department of State Hospitals-Coalinga.