Meet the NSH Fire Chief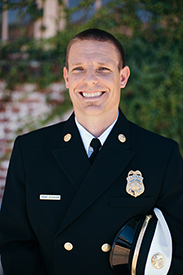 TRENT SCHAGER - DSH FIRE CHIEF NAPA
Personal
Trent Schager promoted to Fire Chief at the Department of State Hospitals (DSH) Napa on January 29, 2015. Chief Schager was hired at DSH Napa as a firefighter in September 2009, and in 2011, he was assigned as a Lead Firefighter/ Crew Officer becoming one of the senior members of the Fire Department. Early on in his career as a firefighter at DSH Napa he was assigned the duties of Training Officer. As DSH Napa Fire Department's Training Officer he was responsible for scheduling/coordinating training drills, providing training, tracking training requirements for compliance and making recommendations that brought the fire training program up to a higher standard, equal to other Firefighter Apprenticeship Training Programs. Chief Schager also fulfilled the roles of Vice President and Site Representative for the State Employee Fire Fighters Association (SEFFA).
Prior to starting at DSH Napa, he spent 14 years in construction, and was a Volunteer Firefighter with Napa County Fire Department and a Reserve Firefighter with the American Canyon Fire Protection District. Chief Schager has been a resident of Napa County, since moving here in 1984 from Ventura County. He graduated from Vintage High School in Napa, and went on to College at California State University Sacramento. While attending college, Chief Schager was also attending the Northern California Carpenters Joint Apprenticeship Program where he earned his Journeyman Certificate. Besides his dedication to DSH Napa, Chief Schager enjoys spending time with his family. When not at work, he coaches youth soccer, and enjoys playing softball, golf, and many other outdoor activities.
Message from the DSH Fire Chief - Napa State Hospital
As the Fire Chief at DSH-Napa, my goal and my responsibility are to provide high quality fire services to the patients, staff and visitors as well as protect the people and property of the State of California. The DSH Napa Fire Department's mission in line with the hospital's mission is to provide evaluation and treatment in safe and responsible manner, seeking innovation and excellence in hospital operations, across a continuum of care and settings. I believe the Fire Department's contribution to this mission is to improve services to the patients and staff here at DSH-Napa and in the adjoining community through mutual aid. The fulfillment of this mission will be met by improvements to fire service training and education, the use of new technologies making tasks more efficient, and upgrading outdated command structures that no longer provide the necessary accountability for safe and effective operations within the Fire Department. Through these improvements I believe the dedicated Firefighters who provide services at DSH Napa will be able to do so in a manner that increases the quality of patient care and protects the lives of anyone who resides, works, or visits the Department of State Hospitals Napa.