Department of State Hospitals (DSH) - Metropolitan: Home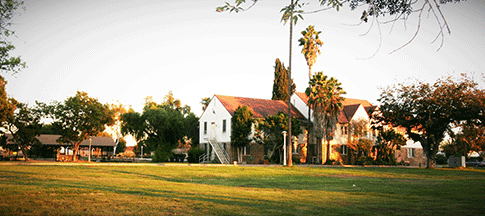 Metropolitian State Hospital - Photograph by James Park
HISTORY
Opening in 1916, this state hospital was once a self-sufficient facility with its own farm, dairy and animals. Today, DSH-Metropolitan is located in Norwalk in Los Angeles County. The hospital has an open campus within a security perimeter. Due to community concerns, this facility does not accept patients with criminal history that includes murder, sex crimes, or escape. The hospital does not accept voluntary admissions.

Nutrition Services Building - Photograph by James Park
PATIENT POPULATION
The hospital operates approximately 826 beds. The commitment categories of patients treated at DSH-Metropolitan are described below:
Lanterman-Petris-Short (LPS) Act
These patients are typically referred by local community health programs and involuntarily placed within the state hospital system for treatment via a conservatorship agreement. Conservatorships are for people who, as a result of a mental health disorder, are considered to be gravely disabled; they are unable to provide for their basic personal needs of food, clothing, or shelter. Patients treated within DSH are those whose psychiatric conditions require the highest level of psychiatric care and those who cannot be treated in less restrictive locked facilities or board-and-care homes. LPS patients are discharged from the state hospital once they have either met discharge criteria i.e. improvement in their mental health and their county of residence has found placement for them or if they have successfully petitioned the court to terminate their conservatorship.
Incompetent to Stand Trial (PC 1370)
Patients deemed incompetent to stand trial are those who have been charged with a crime and, as a result of a mental health disorder, are 1. unable to understand the nature and purpose of the court proceedings taken against them and 2. unable to assist counsel in the conduct of their defense in a rational manner. These patients are placed in a state hospital where the focus of their psychiatric treatment is to provide psychiatric treatment and restore them to competency (i.e. understand court proceedings and assist counsel) so the court may adjudicate their pending charges. Patients who are determined to be unlikely to regain competency are returned to the court to determine future status which may include an LPS Conservatorship.
Offenders with Mental Health Disorders (Penal Code Section 2964/2972/2974)
Parolees who committed one of a specified list of crimes and who were treated for a severe mental disorder connected to their original crime can be committed to a state hospital as a condition of parole for a period not to exceed the length of their parole term. If the person still requires treatment at the end of their parole term, they can be civilly committed under PC2972 if it is determined that they are a substantial danger to others. These commitments last for one year and may be renewed annually by the court.
Not Guilty by Reason of Insanity (PC 1026)
Patients judged by the court to be not guilty because they were insane at the time of the felony crime are committed to a state hospital for treatment for a period equal to the maximum sentence of their most serious offense. The goal of treatment is to develop socially responsible behavior and independent living skills, while treating their mental illness. They are eligible for release to a transitional program for integration into the community once they have been deemed no longer a danger. These commitments may be renewed by the court.
The patient population breakdown for DSH-Metropolitan as of 11/7/2016 is listed below. The data below includes patients who are not in the facility because of a court appearance or who are at a general acute care hospital to receive other medical treatment.
Patient Commitments
Population
Percentage of
Total at Facility

Incompetent to Stand Trial

310

41%

Lanterman Petris Short

295

39%

Offenders with Mental Health Disorders

38

5%

Not Guilty by Reason of Insanity

114

15%
For additional categories and sub-categories of patients that may be found at each facility, please visit our Legal Commitments webpage. Or contact Forensic Services Department at MSH.Forensic@dsh.ca.gov for specific questions regarding DSH-Metropolitan patients.
HOSPITAL STAFF
Approximately 1,530 employees work at DSH-Metropolitan providing around-the-clock care, including psychologists, psychiatrists, social workers, rehabilitation therapists, psychiatric technicians, registered nurses, psychiatric technicians, and other clinical and administrative staff. There are approximately 190 different job classifications at the facility, including hospital police, kitchen staff, custodial staff, warehouse workers, groundskeepers, information technology staff, plant operations staff, spiritual leaders, and other clinical and administrative staff.
TREATMENT AND PROGRAMS
DSH - Metropolitan is the first state hospital in California to have a specialized unit dedicated to Dialectical Behavior Therapy (DBT). DBT is a comprehensive, cognitive-behavioral treatment for complex, difficult-to-treat mental disorders founded in the late 1970s by psychologist Marsha Linehan.
Research indicates DBT to be effective in reducing:
Suicidal and self-injurious behaviors
Chronic feeling of emptiness and depression
Intense anger or difficulty controlling anger
Impulsive behaviors that are potentially self-damaging (e.g., substance abuse)
Psychiatric hospitalizations
DSH - Metropolitan has a specialized unit dedicated to DBT as a treatment modality for individuals who have emotional responses that are poorly modulated, and does not fall within the conventionally accepted range. It is also for patients who demonstrate maladaptive behavior such as suicidal actions, aggression towards others, self-harm and substance use.
Each individual participates in the following activities:
DBT Skills Groups which include 4 modules: Mindfulness, Emotional Regulation, Distress Tolerance, and Interpersonal Relationships
Homework and Review Group
Weekly Individual Therapy
Bi-Weekly Outings
Groups focused on practicing and applying skills
Other treatment programs include:
The Trial Competency Program is for patients admitted to the hospital pursuant to Penal Code (PC) 1370, Incompetent to Stand Trial. These patients receive a specialized program of treatment which is specifically designed to help the patient gain the knowledge and skills necessary to return to court. The goal is for the patient to understand court proceedings and effectively participate in their defense.
The Lanterman-Petris-Short program provides treatment for civilly committed patients who suffer from severe symptoms of mental illness, who engage in the behaviors that are dangerous to themselves or others or are gravelly disabled by their mental illness and thereby unable to formulate a viable plan for self-care. The program provides a highly structured treatment environment for re-socialization in preparation for community placement.
Our fully-licensed Skilled Nursing Facility (SNF) provides continuous nursing treatment and care for both Penal Code (PC) and civilly committed patients whose primary need is availability of skilled nursing care on an extended basis. Our SNF is able to provide round-the-clock inpatient health care.
ACCREDITATION
This facility is accredited by the Joint Commission on Accreditation of Healthcare Organizations. The Joint Commission conducts unannounced surveys of this hospital at least every three years. The purpose of the survey is to evaluate the hospital's compliance with nationally established Joint Commission standards. The survey results are used to determine whether accreditation should be awarded and under what conditions that happens. Joint Commission standards deal with organization quality, safety of care issues and the safety of the environment in which care is provided.
COMMUNITY
Approximately 80 of the staff at DSH-Metropolitan live in Norwalk. The rest reside within a seventy-mile radius in Los Angeles, Orange, Riverside, San Bernardino, and Ventura counties.
The hospital is a partner with various colleges and universities throughout Southern California. Thousands of graduates over the course of many years have worked at DSH-Metropolitan after completing psychiatric technician education programs at Cypress College and Mt. San Antonio College (Mt. SAC). Similarly, a number of registered nurses from area colleges have completed clinical rotation in our hospital. These colleges include American University of Health Sciences, California State University, Dominguez Hills, West Coast University, and CNI College.
The hospital also provides opportunities for elective rotations for medical students from several medical schools as well as resident physicians from nearby residency programs. DSH-Metropolitan has a psychology doctoral internship program which accepts five interns every year.
DSH - Metropolitan provides field work training opportunities for Master's in Social Work students. It is affiliated with USC, CSU Dominguez Hills, CSU Fullerton, CSU Long Beach, CSU Los Angeles, and Azusa Pacific University. DSH - Metropolitan Social Work Department also has a Professional Development Committee. Members of the DSH - Metropolitan Social Work department additionally make efforts to actively participate in the mental health community; giving presentations at the MSH Mental Health Community Education Program and local NAMI meetings, being invited to guest lecture and teach at local universities and community colleges, serving as board members of professional organizations, as well as, participating in academic committees and work groups.
DSH-Metropolitan is the second highest employer of the City of Norwalk, after the unified school district. The hospital is an active partner in the City of Norwalk's Annual Angel Tree Project, with hospital staff donating canned foods and unwrapped toys during the holiday season for the community in need.