DSH - Patton: Internships - Training Philosophy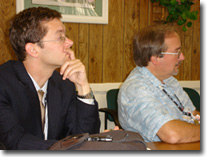 The Department of State Hospitals - Patton Internship strives to train culturally competent, scientifically informed practitioners who are well-rounded and can function in a variety of settings. Our training model focuses on the development of skills in three core areas:
Treatment
Assessment
Consultation
Throughout the training, emphasis is placed in the development of cultural competence and on considering the scientific underpinnings of assessment and treatment methods. Within the framework outlined above, specialty concentrations are offered in clinical psychology, forensic psychology, and clinical neuropsychology.
Psychology Training Overview
Psychology Internship
Psychology Postdoctoral Fellowship
Psychology Practicum
Psychiatry Internships and Affiliations
Other Programs