DSH - Metropolitan - Psychology Doctoral Internship
What to Expect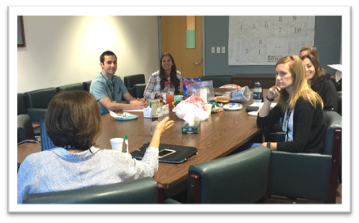 The internship program at DSH-Metropolitan requires the intern to be motivated, self-sufficient and collaborative. The internship experience can be quite challenging and difficult, largely due to the fact that the population we serve suffer from severe mental illness and often have multiple complicating factors such as trauma, addiction and personality traits. Safety is our top priority. We take the safety and security of our interns seriously.

We also have a high regard for the careful guidance and support for the interns throughout the entire internship process. However, the nature of our facility and the work we do requires that our interns exercise a sense of independence, self-driven learning and assertiveness.
Sample Of Weekly Schedule for Treatment Unit Rotation
| Time | Monday | Tuesday | Wednesday | Thursday | Friday |
| --- | --- | --- | --- | --- | --- |
| 8:00-9:00 | Morning Report w unit staff | Morning Report w unit staff | Morning Report w unit staff | Morning Report w unit staff | Morning Report w unit staff |
| 9:00-10:00 | Treatment conference | Check in with patients | Treatment conference | Check in with patients | Check in with patients |
| 10:30-11:30 | Testing administration | Group therapy | Testing administration | Group therapy | Group therapy |
| 11:30-12:00 | Testing administration | Notes and paperwork | Testing administration | Notes and paperwork | Notes and paperwork |
| 12:00-1:00 | Lunch | Lunch | Lunch | Lunch | Lunch |
| 1:00-2:00 | Individual therapy | Treatment conference | Individual therapy | Treatment conference | Individual therapy |
| 2:00-3:30 | Individual supervision | Group Supervision | Administrative services | Didactic presentation | Report writing |
| 3:30-4:30 | Professional development, reading | Group Supervision | Report writing and notes | Didactic presentation | Report writing |
Sample Of Daily Schedule for Patient Treatment
| Time | Monday |
| --- | --- |
| 7:00-8:00 | Breakfast & morning hygiene |
| 8:00-9:00 | AM medications |
| 9:00-9:30 | AM free time (Treatment plan meetings) |
| 9:40-10:30 | AM Group 1 |
| 10:40-11:30 | AM Group 2 |
| 11:45-12:30 | Lunch |
| 12:30-1:30 | PM free time |
| 2:30-3:30 | PM medications |
| 3:40-4:30 | PM Group 1 |
| 4:30-5:00 | PM free time (Patio break) |
| 5:00-5:30 | Dinner |
| 5:30-7:30 | PM hygiene & personal time |
| 7:30-8:00 | PM medications |
| 8:00 | Lights out |
Sample Of Weekly Didactic Topics
| Cognitive | Specific Instruments | Clinical Practice | Professional Development | Forensic | Theoretical Topics | Therapy |
| --- | --- | --- | --- | --- | --- | --- |
| Cognitive Assessment Part I & II | MCMI-IV | Cog rehab | Postdoc Prep | FEDS presentation | Sovereign citizen | Metaphor therapy |
| SSD as a neurodevelopmental disorder | HCR-20 I & II | Behavioral Interventions I & II | Starting Private Practice | 1370 Competency | Criminology | Therapeutic approaches at DSH |
| Substance abuse and cognition | MMPI-3 | FREE | Financial Literacy for Psychologists | Correctional Psychology | Psychopharmacology & Forensic psychiatry | Considerations for Termination of Treatment |
| Mild TBI | START | Trauma Informed Care | How to become a paneled evaluator | Gateways CONREP | Malingering | Dialectical Behavioral Therapy |
| Neuroanatomy Basics | C-SSRS | Working with people with disabilities/older adults | Psychopharmacology & perspectives of a forensic psychiatrist | Complex competency to stand trial cases | Serial killers and multilevel personality assessments | CBT for Psychosis |
| Neurocognitive Effects of Drugs and Alcohol | PCL-R | Considerations for Termination of Treatment | EPPP Prep | Expert testimony | Basic principles of Trauma | Acceptance and Commitment Therapy |